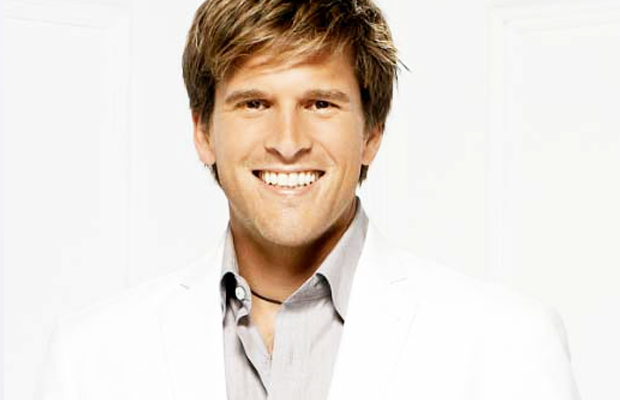 ANDREW G
TV, RADIO & MEDIA PERSONALITY
Osher Günsberg (born Andrew Günsberg ), is widely recognised by his former stage name Andrew G.
After leaving school, Andrew G worked his way through music school as a roadie, where he learned many aspects of the music industry. Following this in 1994, he started performing in bands around the Brisbane scene, such as Feeble's Junky, and later, was in the original line-up of Resin Dogs, playing double bass. Feeble's Junky released two CDs, Panticlerevgator in 1996 and Dive in 1997.
At 20, Andrew G started working as a "Black Thunder" driver and did on-air midnight-to-dawn shifts for B105 radio station in Brisbane, during which time he bore the nickname "Spidey". He filled in for late-night announcing shifts, before taking on the role of the regular midnight-dawn announcer. In 1998, he left B105FM to join SAFM for the afternoon shift. In 1998, at the age of 24, he adopted the stage name of "Andrew G" while doing the afternoon shift at SAFM after his program director said, "Günsberg? Adelaide? Nahh, Andrew G!", thus becoming the first person to ever call him by this name and ensuring some confusion amongst audiences between Günsberg and his new namesake, former Australian rugby league footballer for the Brisbane Broncos, Andrew Gee. In 2009, he decided to drop his abbreviated stage name and revert to his full surname.
From 2004 to 2009, he formally hosted the Australian radio chart countdown programme Take 40 Australia, which airs on nearly 100 stations nationwide. For a month in September 2009, he filled in for controversial breakfast radio presenter Kyle Sandilands on 2Day FM's The Kyle and Jackie O Show along with Dannii Minogue and Brian McFadden. Günsberg finished with Take40 Australia on 29 November 2009. In December 2009, he launched a re-formatted version of The Hot Hits, bringing the show live every week around Australia from Los Angeles. The show was re-named The Hot Hits Live from LA. In July 2010, after only six months on air, the show was nominated for an Australian Commercial Radio Award in the category of "Best Syndicated Program".
In 1999, Andrew G shot a short video tour of himself on his skateboard and sent it to Channel [V], resulting in his selection as a host for the station.
For the next seven years, Andrew G worked mainly in live broadcasting, and hosted the flagship request show, By Demand (later whatUwant), and various late night shows (including The Joint). He also hosted a nightly live variety show during the Sydney Olympics of 2000, Rings of Fire.
Andrew G was also involved with Channel [V]'s Bus tours — a show broadcast via satellite from the back of a truck from various locations in Australia. Bands and skaters would perform, and crowds varied in size from several hundred to several thousand. They toured throughout summer around the country, broadcasting from cities, beaches, snowy mountains and deserts.
He travelled to Europe and North America in July 2005 to shoot the interview series Andrew G's Excellent Adventure. Highlights included a ride in the private plane of the Offspring's Dexter Holland to the Vans Warped tour, and seeing Jamiroquai perform to 100,000 in Naples, Italy.
In 2006, it was announced that Andrew G would be leaving Channel [V].
In 2003, Andrew G became co-host (with Channel [V] co-star James Mathison) of Australian Idol on Network Ten. For this role, Günsberg was nominated for the Silver Logie in 2004. After Mathison announced that he was moving on to other projects, Günsberg hosted the seventh season ofAustralian Idol solo in 2009. He was also the compere of Network Ten's game show The Con Test.
Andrew G appeared on a celebrity episode of the Australian version of Ready Steady Cook in October 2005. As a committed vegan, his recipe ideas were not extremely well received by the audience. According to Günsberg, the audience's response when he revealed tofu on the menu, was "similar to the look you see on peoples [sic] faces when they view two dogs rooting on the side of the road — puzzled, curious, but all together uncomfortable."
Andrew G was one of the co-hosts of the televised Australia Day-eve celebrations on 25 January 2006. In October 2006, he was a contestant on the Australian comedy TV Show, Thank God You're Here, and played in Celebrity Joker Poker, winning $10,000 for charity. In 2007, he hosted The Con Test. In February 2007, he appeared as himself on the soap opera Neighbours. From 2007–09, he co-hosted the Sydney New Year's Eve telecast alongsideKim Watkins & Fuzzy. He also served as a creative consultant on the production.
Andrew G also narrated the Network Ten / Cordell-Jigsaw productions, Bondi Rescue and the second season of Recruits. He was a contestant in Season 2 Episode 34 of Good News Week that aired on Channel 10 on 14 September 2009. He has been an occasional guest host for Charlie Pickering and is still a regular contributor to The Project.