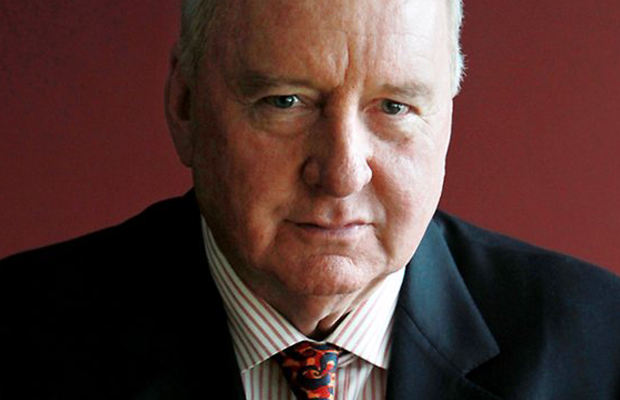 ALAN JONES
AUSTRALIAN RADIO BROADCASTER
In 1985, Alan Jones joined the Sydney AM radio station 2UE as the morning show host after long-time host John Laws left for 2GB. Laws returned to 2UE in 1988 to again host the morning show, so from March of that year Jones was moved to the breakfast slot from 5.30 am to 9.00 am. On changing to the breakfast show, Jones first adopted the program's long-time opening and closing theme music, "Gloria" byLaura Branigan. By the mid-1990s Jones' audience share in the Sydney market was up to 22%, giving him the largest radio audience in Sydney, and, including his transmissions into regional and interstate markets, possibly the largest radio audience in Australia.
Jones' program has remained little changed over time, as a mixture of opinion pieces, interviews, talkback, and commercial endorsements. His on-air popularity has made him a highly paid and powerful media personality. Alan Jones uses his program to advocate largely conservative views, and he has been described as one of the most influential broadcasters in Australia. Throughout his time on radio Jones has frequently been referred to as a 'shock jock' due to the style of his presentation, although he personally rejects this term.
On seven occasions between 1990 and 1997, Alan Jones was awarded by Commercial Radio Australia the title Australian Radio Talk Personality of the Year. In 2001 Jones was awarded the Centenary Medal and the Australian Sports Medal, both being awarded for his contributions to sport and the broadcasting industry.
In 2002, Alan Jones switched to 2GB as breakfast announcer, reportedly also taking a financial interest in the station.
In 2008, Jones' audience numbers began to fall, with competition from ABC Radio 702, although he retained his number one position. In 2011, Jones had an audience share of 19.2 per cent, still the largest for a radio commentator in Sydney. In 2012 Jones retained the largest share, with 18.5% of the Sydney radio audience, although this represented an average number of listeners of just 151,000 out of a listening audience of 469,000 and a possible Sydney audience of 4.1 million, and was down from 185,000 in 2006 despite an increase in population. In February 2013, his audience share dropped to 15.4%.
In November 2014, Jones celebrated having the highest share in Sydney breakfast radio for 100 consecutive radio rating surveys.