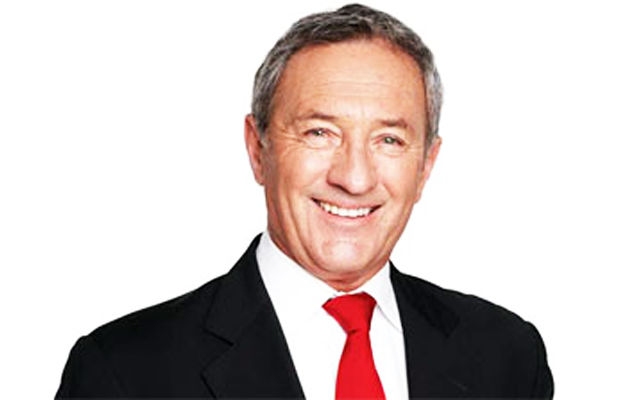 KEN SUTCLIFFE
RADIO, TV & MEDIA PERSONALITY
In 1982 Ken Sutcliffe began his television presenting career with Darrell Eastlake co-hosting 'Bedtime stories with Ken & Daz'. The show was set in a bedroom and featured Ken and Darrell wearing pajamas and being served cookies by Denise Drysdale. Each week they would interview a prominent sportsperson who would also arrive in their pajamas. The show was axed after 8 episodes.
Ken Sutcliffe has been a long-time host of the Nine Network's Wide World of Sports productions, initially joining the program in 1982. After a year off as a co-host on Graham Kennedy's news program simply called Graham Kennedy's News Show in 1988, he rejoined WWOS in 1989, including a stint during the 1990s with Max Walker.
During his time with Wide World of Sports, Ken Sutcliffe travelled many miles for the Nine Network. He was in Los Angeles in 1984 for the Summer Olympics while the Winter Olympics took him to Calgary in 1988, to Albertville, France, in '92 and to Lillehammer in '94.
Ken Sutcliffe has also hosted three Commonwealth Games for the network: Brisbane in 1982, Auckland in 1990 and Kuala Lumpur in 1998.
In addition Ken Sutcliffe has presented the Wimbledon and US Open Tennis Championships for more than a decade and was also in Augusta Georgia in 1997 to host the Masters telecast when Tiger Woods broke through for his historic victory.
Ken Sutcliffe has also hosted Rugby League Grand Finals and the State of Origin series, as well as the US Open Golf, the Pan Pacific and Olympic swimming trials plus the World Swimming Championships in Japan and The Brisbane Goodwill Games. Ken was also part of the hosting team for the Melbourne 2006 Commonwealth Games.
A stalwart of the Nine Network, Ken Sutcliffe began presenting sport on Nine News Sydney — a position he still holds — in 1982 and later that year began filling in as co-host on Wide World of Sports and Today.