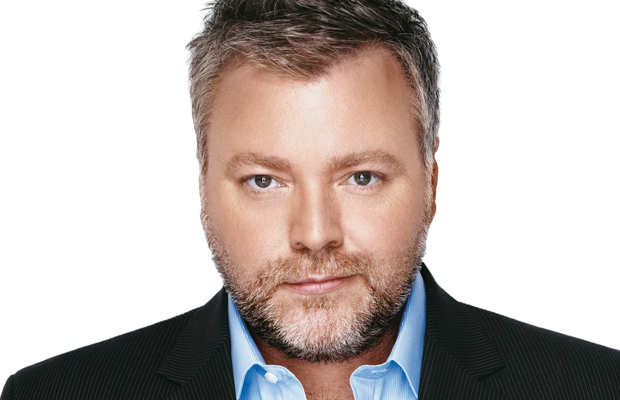 KYLE SANDILANDS
AUSTRALIAN RADIO & TV PERSONALITY
Radio
Kyle Sandilands landed his first radio job with a Brisbane station by using a false resumé to impress one of the station's executives. In 1999, he moved to Sydney, and commenced at 2Day FM as host of the Hot30 Countdown, replacing "Ugly Phil O'Neil", a former husband of Henderson. Sandilands attributes his radio career taking off after being told by then Group Program Director Jeff Allis to 'do whatever you want, just win'. Sandilands revealed he was paid $255,000 per year while working on the Hot30.
Much media coverage of Kyle Sandilands has focused on the negative aspects of his personality and behaviour, notably his widely publicised clashes with and criticism of other media figures, his intemperate on-air outbursts and his alleged "out of control" ego. In September 2006, Sandilands was named the most hated Australian identity in a Zoo Weekly article, although on 14 October 2006, Sandilands and Henderson were named "Best On-Air Team" at the Australian Commercial Radio Awards. Kyle and Jackie O were again named "Best On-Air Team" at the Australian Commercial Radio Awards in 2007, 2011 and most recently on 10 October 2015.
In August 2009, The Kyle and Jackie O Show was put into "indefinite recess" by the Austereo network as a result of a controversial on-air stunt on his morning show on 29 July 2009. He returned to his radio show on 18 August 2009 but was suspended on 9 September 2009 due to on-air comments relating to Magda Szubanski. In the same year he was again named the most hated by Zoo Weekly. Sandilands and Henderson were the hosts of the nationally syndicated chart show The Hot Hits, before swapping host roles with Andrew Günsberg in December 2009, who had previously hosted Take40 Australia, but left the show at the end of 2011.
Television
Australian Idol
In 2005, Kyle Sandilands replaced Ian "Dicko" Dickson as one of the judges on Network Ten's Australian Idol. Sandilands continued as a judge on Idol until, just before the premiere of its seventh season, he was dropped from the show in August 2009. He was involved in a number of controversies relating to remarks to contestants as his stint as a judge. In October 2005, he referred to the eventual 2005 Idol winnerKate DeAraugo's arms as "tuckshop lady arms". In September 2006, Sandilands told 2006 runner-up contestant Jessica Mauboy to lose her "jelly belly". A year later, Sandilands referred to contestant Bobby Flynn as a "mong" – a derogatory slang term for mongoloid, referring to people suffering from Down syndrome. Sandilands claimed that he meant no disrespect to those suffering from Down Syndrome. On 3 August 2009, Network Ten issued a press statement announcing that Sandilands had been sacked from Australian Idol, citing the network's view that the Kyle and Jackie O Show's content was incompatible with the family-oriented image of Idol.
Big Brother
In 2002, Sandilands competed in the only Australian series of Celebrity Big Brother. He finished 3rd on day 23.
On 14 July 2008, two weeks before the season finale, Sandilands appeared on the 2007 Australian season of Big Brother. In an attempt to boost poor ratings and to promote the 2007 season of Australian Idol, Sandilands entered the Gold Coast compound and was due to conduct his radio program in house on that Monday morning. However, after a heated verbal exchange with Big Brother, Sandilands reportedly required anti-nausea injections for migraines and began vomiting every 30 minutes. He left the house soon after. In 2008, Sandilands and Henderson became the hosts of the 2008 season of Big Brother replacing Gretel Killeen. The ratings for the launch of the 2008 series were the lowest in the show's history, and Network Ten ultimately confirmed that it would not continue past the current season.
Australia's Got Talent
In January 2010, it was announced that Sandilands and Brian McFadden became the new judges on the fourth season of Australia's Got Talent replacing former judges, Tom Burlinson and Red Symons. During one of the show's auditions, Sandilands was again involved in another controversy relating to a contestant on the show. Sandilands had asked contestant Heather Cook, "Are you male or female?". When Cook tried to make light of being asked if she was male or female, Sandilands then made a joke about her weight, saying "You're a belly full of laughs". Sandilands then added he wasn't hired to be "bland and boring", he was just being honest.
The X Factor
In May 2010, it was announced that Sandilands would become one of the new judges on the second series of The X Factor Australia, alongside other new judges Ronan Keating, Guy Sebastian and Natalie Imbruglia. On 16 March 2011, Sandilands announced on his breakfast radio show that he would not be returning as a judge in the third series of The X Factor. Sandilands was replaced by Mel B.