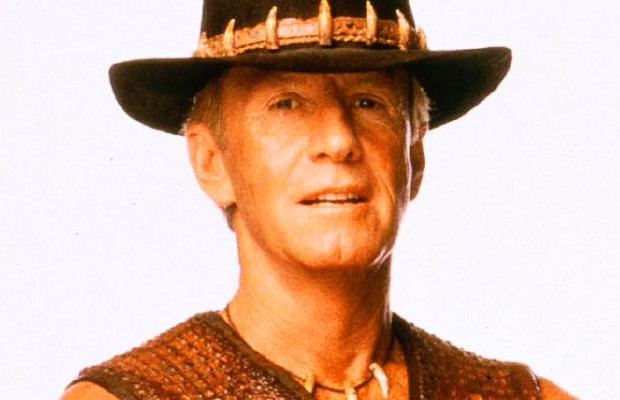 PAUL HOGAN
COMEDIAN, ACTOR & TELEVISION PRESENTER
Paul Hogan's first public appearance was on Australian television, the Nine Network's amateur talent program New Faces in 1971. Hogan had observed to his Harbour Bridge workmates that the program's entertainment value relied significantly on the judges ridiculing and belittling the performers, and suggested the judges deserved similar treatment. Hogan inveigled his way onto the program by claiming to be a "tap-dancing knife-thrower". Hogan appeared on stage in his work boots, holding kitchen knives; he performed a rudimentary shuffle, threw the knives onto the floor and proceeded to make a series of jokes at the judges' expense. Strong positive response from the viewing public saw Hogan invited back for repeated performances on New Faces; in another of these, he proposed to "play the shovels", which consisted of banging two shovels together a few times before making a series of jokes. Hogan's natural ability as a comedic performer attracted the attention of Mike Willesee, host of Nine's news magazine program A Current Affair. Willesee offered Hogan regular appearances on the show, during which Hogan would make humorous comment on some issue of the day. During this time Hogan befriended Current Affair producer John Cornell, who became Hogan's manager and business partner.
Paul Hogan followed this with his own comedy sketch program The Paul Hogan Show, which he produced and wrote, and in which he played characters with Cornell and Delvene Delaney. The series, which ran for 60 episodes between 1973 and 1984, was popular in his native country and South Africa, and showcased his trademark lighthearted but laddish ocker humour. Hogan won the 1973 TV Week Logie Award for 'Best New Talent'. The early series was on Channel Seven and by 1975, it was screened on Channel Nine where it remained until the end of 1984.
In the 1970s, he advertised Winfield cigarettes in television, print and billboard advertisements in which he wore a formal dinner suit. These ads always ended with the catchphrase "Anyhow, have a Winfield". During the early 1980s, Hogan filmed a series of television ads promoting the Australian tourism industry, which aired in the United States. An advertisement with the phrase "shrimp on the barbie" which aired from 1984, was particularly successful.
In 1985, Paul Hogan starred as an Australian World War I 'digger' named Pat Cleary in the critically acclaimed mini-series Anzacs which aired on the Nine Network. Cleary was described as the quintessential Aussie larrikin and series writer John Dixon wrote the part of Cleary with Hogan in mind. The series included a "who's who" of Australian television and film actors of the day including Jon Blake, Andrew Clarke, Megan Williams, Tony Bonner, Bill Kerr, Ilona Rodgers, Vivean Gray and Robert Coleby.
Throughout the decade, he appeared on British TV in advertisements for Foster's Lager, in which he played an earthy Australian abroad in London. The character's most notable line (spoken incredulously at a ballet performance) "Struth, there's a bloke down there with no strides on!", followed Hogan for years, and the popularity of its "fish out of water" humour was repeated with his next endeavour. In another advertisement from the same Foster's series, Hogan's character is approached in a London Tube station by a Japanese tourist who asks, 'Do you know the way to Cockfosters?' (referring to an area in North London), to which Hogan replies (with a puzzled look on his face): "Drink it warm, mate."
Paul Hogan's breakout role was that of Mick "Crocodile" Dundee in the 1986 film Crocodile Dundee. Hogan also co-wrote the movie, which was a massive critical and commercial success in many countries. He won the 1987 Golden Globe Award for Best Actor – Motion Picture Musical or Comedy and was also nominated for Best Actor at the BAFTAs. The screenplay was nominated for an Academy Award, a BAFTA and a Saturn Award. Along with Chevy Chase and Goldie Hawn, Hogan co-hosted the 59th Academy Awards, also in 1987. Hogan again portrayed Mick Dundee in the sequel Crocodile Dundee II, released in 1988. Hogan was also executive producer and co-writer with his son, Brett. Although less popular than the first Crocodile Dundee film with critics, it was also a commercial success. The character made him popular in the United States, with phrases like, "That's not a knife…that's a knife!" entering the lexicon, though Hogan was troubled that the character was perceived as a cross between Chuck Norris and John Rambo, and turned down roles similar to those due to their violent nature, commenting:
The movie scene is screaming out for the movie hero who doesn't kill 75 people… less of those commandos, terminators, ex-terminators and squashers. Mick's a good role model. There's no malice in the fellow and he's human. He's not a wimp or a sissy just because he doesn't kill people.
In the early 1990s, a Paramount executive pitched a concept of a Crocodile Dundee / Beverly Hills Cop crossover movie. Hogan refused the starring role in the hit film Ghost, choosing instead to make Almost an Angel (1990).[13] In 1994 Hogan co-produced, wrote and starred in the Western comedy film Lightning Jack. In 1996 Hogan starred in a remake of the 1963 film Flipper, a family-friendly movie about a dolphin. In 1998 he co-starred in the made-for-TV drama Floating Away, an adaptation of the Tim Sandlin book Sorrow Floats. Hogan played 'Shane', a recovering alcoholic.
In the late 1990s and early 2000s, Paul Hogan was featured in advertisements for the Subaru Outback. In 2001, Hogan returned to the role that made him famous with Crocodile Dundee in Los Angeles.
In 2004 Paul Hogan starred in the Australian-produced comedy film Strange Bedfellows, about two firemen pretending to be in a homosexual relationship for financial benefit. Strange Bedfellows was written and directed by Hogan's friend Dean Murphy and was the highest-grossing Australian-made film of 2004. 2005 saw the release of Paul Hogan – Stand Up Hoges, a DVD compilation of Hogan's favourite live performances throughout his career. In 2009, Hogan starred in another of Murphy's films, Charlie & Boots, a road-movie concerning the relationship between a father (Hogan) and son (Shane Jacobson). It was the second-highest grossing Australian-made film of 2009, after Mao's Last Dancer.
In 2013, 2014 and 2015 Paul Hogan embarked on live stand-up performances throughout Australia. The 2013 An Evening with Hoges tour featured capital cities only but the 2014 tour Hoges: One Night Only featured 25 locations including regional Australia. 2015's Hoges: Live saw shows in Hobart, Melbourne and Sydney only. Some of this material was shown in the 2014 documentary Hanging with Hoges, in which Hogan was interviewed about his life and career by Shane Jacobson.
In 2016 Hogan received the Longford Lyell Award for an outstanding contribution to the Australian screen. Paul Hogan joked he'd only ever been a "one-hit wonder".