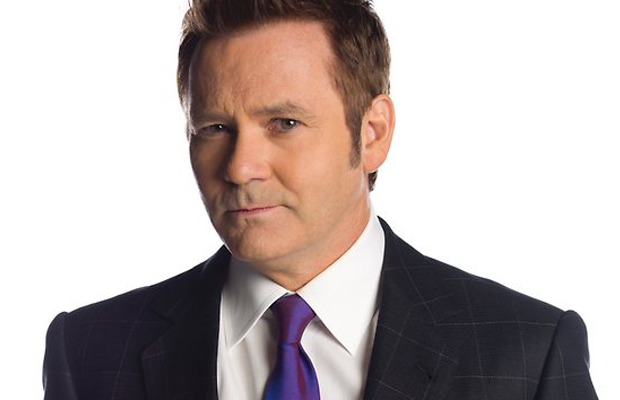 PAUL McDERMOTT
ACTOR, COMEDIAN & TV PERSONALITY 
Career
Doug Anthony All Stars
Paul McDermott began busking in 1985, which he says equipped him with useful experience and the ability to cope with most situations when he later started performing in clubs. He joined a group called Gigantic Fly which performed at a new Canberra club called Cafe Boom Boom. It was here that he got to know Tim Ferguson and Richard Fidler of the musical comedy group the Doug Anthony All Stars (DAAS). McDermott was asked to join the group when the third member, Robert Piper, left due to other commitments. Paul McDermott primary reason for joining, he says, was monetary: "I'd been stealing canvas from the bins around the art school." Initially busking and performing live in clubs, with McDermott writing the majority of their material and songs, DAAS achieved success at the 1986 Adelaide Fringe Festival and subsequently travelled to Britain for the Edinburgh Fringe festival, where they were nominated for the Perrier Award. They toured both nationally and internationally, appearing on British television and playing at the opening of the Barcelona Olympics. After initially struggling to gain success in Australia, in 1989 DAAS was picked up to perform on the ABC show The Big Gig, on which they became a popular feature. They appeared frequently on the show until 1991, when the group premiered their own series on the ABC, DAAS Kapital, which ran for two seasons. McDermott says that he liked performing with DAAS because it allowed him to bring together a range of his interests—he got to write, perform, sing, create costumes and paint backdrops.
The group split up in 1995 after a final farewell tour of Australia. Rumours of a falling out among the trio persisted for many years, but all three maintained that they had parted on good terms and that it had simply been time to move on, as they had wanted to pursue careers in different directions. Ferguson has since revealed that the break-up was in large part due to his being diagnosed with multiple sclerosisin 1995. In the two years following the break-up of DAAS, McDermott wrote two film scripts and the stage show MOSH!. He says that he was not particularly interested in returning to comedy, which he came to regard as an "aberration, something that had been good to do for eight years but now it was over," until in 1996 he was recruited as host of the satirical news-based quiz show Good News Week.
In 2014, Paul McDermott and Tim Ferguson reunited to tour Australia as the Doug Anthony All Stars, with frequent collaborator Paul Livingston (also known as "Flacco") replacing Richard Fidler as guitarist due to Fidler's radio commitments.
Television career
In 1996, Paul McDermott was recruited by director Ted Robinson, with whom he had previously worked on The Big Gig, to host Good News Week, which aired on the ABC from 1996 to 1998, and on Network Ten from 1999 to 2000 and then returned in 2008 for a new series. He hosted the AFI awards in 2002, and in 2004 and 2005 presented the ABC show Strictly Dancing. McDermott reunited with Robinson in 2007 when he was named host of a new ABC variety program, The Sideshow, a show described as a successor to The Big Gig. It premiered on 21 April 2007, and quickly built a strong cult audience. However, due in part to poor programming, the show did not rate well and was cancelled after its initial run of 26 episodes. McDermott says he was saddened by The Sideshow's cancellation as he believed it was an excellent venue for performers of alternative work which would have achieved ratings success if it had been allowed to continue.
Paul McDermott returned to regular television hosting in July 2015 as the host of Room 101, an Australian version of the long running British TV Show of the same name, airing on SBS One.
Good News Week
Paul McDermott hosted Good News Week from 1996 until its cancellation in 2000, as well as its two spinoffs, Good News Weekend (1998) and GNW Night Lite (1999), and reprised this role when the series returned in 2008. A comedic quiz show with a similar format to that of the British programHave I Got News for You, it features two teams, with two permanent captains and four guests, competing to answer questions based on recent news events. McDermott opens each show with a humorous monologue based on the news on the week and is responsible for posing questions and awarding points to teams. "I'm sort of judge, jury and executioner," he says of his role. The show premiered on the ABC, but moved to Network Ten in 1999.
The ABC was initially apprehensive about Robinson's choice of Paul McDermott as host. He had dreadlocks at the time, and was best known for the crude, aggressive "bad boy" character he had played in the Doug Anthony All Stars, which many tended to confuse with his actual personality. In addition, it was doubted that he was capable of ad libbing and speaking well, as in past interviews he had usually allowed his fellow band members to do most of the talking. McDermott cut off his dreadlocks for the show and succeeded in broadening his appeal by showing a gentler, more charming side as host. He has said that although he feels there are still elements of his more aggressive character in Good News Week, they are "toned down… I've got to be the generous host now, spin-the-wheel sort of thing. I'm basing myself on Mike Brady now. I'm the disciplinarian."
Paul McDermott would regularly sing on the program, particularly on Good News Weekend and GNW Night Lite, including some of his own original songs. In one episode, McDermott performed the self-penned "Shut Up/Kiss Me" as a duet with Fiona Horne. It was met with such a warm reception from viewers that it was eventually released as a single. Some of his other musical performances from the series are featured on the CD Good News Week Tapes Volume 2, and a collection of his monologues from the start of the show appear on Good News Week Tapes Volume 1.
Paul McDermott expressed his relief when the show was cancelled in 2000, saying that he could not have maintained the relentless production schedule for much longer. "I'm just so tired, I don't feel I have been human for five years," he said. Network Ten had initially intended only to bring back Good News Week as a one-off special, but decided to expand it after the short supply of US shows resulting from the 2007–2008 Writers Guild of America strike caused the network to take an interest in developing more local programs. The revived series premiered on 11 February 2008 with McDermott reprising his role as host.
In 2010, Paul McDermott was nominated for a Gold Logie Award for Most Popular Personality on Australian Television.
Live comedy
Paul McDermott describes his performance style as "in your face and unapologetic, grotesque, offensive, loud. But it's all essentially me with the amp turned up—I don't own that many great acting skills." He has stated that he does not consider any subject out of bounds in terms of comedy, which is "one of [his] problems". "I honestly believe you can make a joke about anything if you have something to say," he says. "It really depends on the motivation… The moral objective, I suppose." He is interested in topical humour and targets issues about which he feels passionately, including the detainment of David Hicks, the AWB scandal, torture and the War on Terror.
In 1995 Paul McDermott wrote, directed and performed in a stage show entitled MOSH!, which he says is based on "my drug-addled observations when I've been abusing substances". MOSH! received a range of responses; it won the award for best fringe show at the Adelaide festival and was described by one reviewer as "often hilarious", but was savaged by other critics as being "gratuitously offensive". Columbia Artists expressed interest in the show, but after nearly a decade of international travel with the Doug Anthony All Stars, McDermott did not wish to go to New York to do an off-Broadway show.
Paul McDermott reappeared in the Melbourne International Comedy Festival from 2002 with Cameron Bruce and Mick Moriarty in a music-based comedy trio called GUD. The group uses topical humour in its music; their act includes songs about Osama bin Laden, the transportation of live animal stock and what they describe as contemporary Australian "folk heroes" such as Chopper Read, Rene Rivkin and convicted serial killer Ivan Milat. McDermott says that GUD is in a similar vein to the Doug Anthony All Stars in that it revolves around music, comedy and the inter-relationships between the band members onstage. According to McDermott, the group is named GUD in mockery of the way American people pronounce the word "god", "because that's who Americans thank at awards ceremonies, and I thought someone should be taking the credit."Their 2003 show, "Gud Ugh", won The Age Critic's Choice Award for best Australian show of the festival.
In 2002, Paul McDermott also performed a solo stand-up show entitled Comedyoscopy, a deconstruction of comedy, comedic techniques and what makes people laugh. He has frequently participated in the televised Comedy Festival Gala, appearing in 2008 as its host, and has often captained one of the two competing teams in the festival's Great Debate since his first debate appearance in 1994.