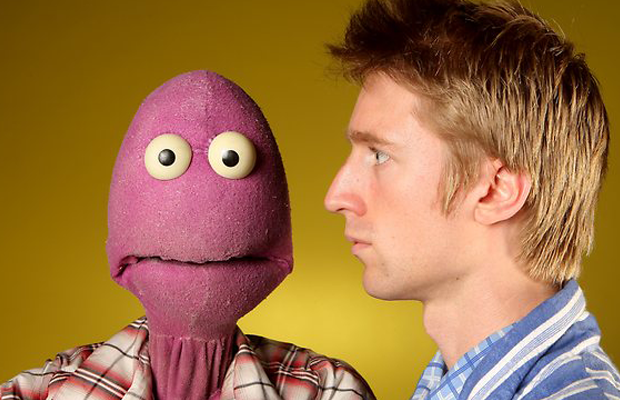 SAMMY J AND RANDY
AUSTRALIAN COMEDIAN
In 2006, McMillan took the Best Newcomer award at the Melbourne International Comedy Festival for his debut solo show, Sammy J's 55 Minute National Tour. He has since performed solo shows at the Edinburgh Festival Fringe and Adelaide Fringe and Melbourne comedy festivals, as well as starring in the Comedians' Theatre Company's production of Breaker Morant at the 2007 Edinburgh Festival Fringe. In 2009, McMillan created a one-man musical comedy show based around his schooldays titled 1999. In 2011 he featured in an episode of ABC TV's Comedy Warehouse series, and in 2012 headlined at the inaugural Jakarta Fringe Festival alongside Bill Bailey and Emo Philips. In 2013 McMillan presented his solo show,Potentially, which was nominated for Best Comedy at the Adelaide Fringe and played to critical acclaim at the Arts Centre in Melbourne.
He has appeared on various Australian television shows including Spicks and Specks, Good News Week and Talkin' 'Bout Your Generation, and wrote and performed on The Comedy Channel's satirical news show The Mansion. In 2013 he hosted Wednesday Night Fever, a satirical sketch show on ABC television, conducting interviews and performing songs based on the week's news.
McMillan is currently an ambassador for the youth mentoring organisation, Big Brothers Big Sisters Australia.
Collaboration
In 2008, McMillan collaborated with puppeteer Heath McIvor on a musical, Sammy J in the Forest of Dreams. The show, which starred McMillan and 14 foul-mouthed puppets operated by McIvor, was an adult fairy tale parodying the format of Disney children's movies. Forest of Dreams was well received by critics in Melbourne, earning a nomination for the festival's Barry Award for the most outstanding show and winning The Age Critics Award for the best local act. Following a successful Edinburgh season, the show toured the UK and played at the Leicester Square Theatre in London.
In 2010 he began working with Randy the purple puppet to create Ricketts Lane, which won the Barry Award for Most Outstanding Show at the Melbourne International Comedy Festival. It then played at the Sydney Opera House. The two debuted the sequel, Bin Night, in 2011 at the Melbourne International Comedy Festival where they performed the song "Secrets", and later that year became regular cast members on the sketch comedy show Good News World, earning a national television following through their weekly songs and sketches.
In 2012 the duo debuted The Inheritance, which played in most Australian capital cities and received five star reviews in Edinburgh. On November 3, McMillan and Randy filmed their very last performance of The Inheritance at the Brisbane Powerhouse for a future DVD release. The same year, Sammy J and Randy hosted the Melbourne International Comedy Festival Gala, creating an original opening musical sequence in which they set about kidnapping the "real" host, Adam Hills. In November that year, they were commissioned by radio station Triple J to create a musical tribute to Australian music. The duo also appeared on the final episode of ABC's Q&A singing a song about the year in politics, and finished the year performing at the Falls Festival in Marion Bay, Tasmania.
In 2013, McMillan and Randy decided to perform their own solo shows (Sammy J: Potentially & Randy Is Sober) at the Adelaide Fringe & Melbourne/Sydney Comedy Festivals. Halfway through 2013, the Australian Broadcasting Corporation launched a political sketch comedy show calledWednesday Night Fever, with McMillan as the show's host, which resulted in him not making his annual trip to the Edinburgh Fringe Festival.
In December 2013, McMillan & Randy debuted Sammy J & Randy's Difficult First Album which is a live recording of one of their Brisbane performances of Sammy J & Randy: The Arena Spectacular.
In September 2015, Sammy J & Randy in Ricketts Lane, a sitcom based on their touring show of the same name, was released on ABC iview. It is due to be broadcast on ABC TV in October.
The 50 Year Show
At the 2008 Melbourne Fringe Festival then 25-year-old McMillan launched The 50 Year Show, the first in a series of live comedy shows which he plans to reprise every five years, ending in 2058 when he will be 75. McMillan describes the show as "a living, breathing comedic time capsule. Every five years we can observe the world, make predictions, see how the world's changed." It includes segments such as a 50 Year Soap Opera, a 50 Year Story; and the 50 Year Dancers, a group of five-year-olds performing a routine which they will repeat at each show. McMillan first conceived the idea forThe 50 Year Show in 2007 while sitting on a London bus full of elderly people and wondering how he could make his mark.
The second instalment took place on 3 October 2013, continuing each segment with the original cast performing alongside their younger selves on a giant projection screen.