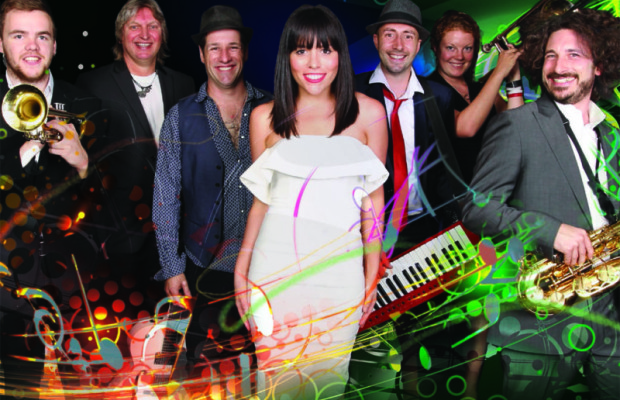 THE BIG BAND THEORY

Adelaide based Wedding & Corporate Cover band
The Big Band Theory will bring their unique, energetic vibe to your next big event with their energetic stage presence, powerhouse horn section and dynamic four part harmonies.
The Big Band Theory is a guaranteed crowd pleaser, keeping your patrons entertained and feeling like they're an important part of your event.
Both professional and fun, The Big Band Theory is the best solution for entertaining large and diverse crowds, their extensive song list is bound to keep the party going and people of different tastes, ages and interests entertained!
Dynamic stage performances will always make an event or festival more memorable and moving from start to finish.
The Big Band Theory sample song list:
Uptown Funk Bruno Mars
All About The Bass Meghan Trainor
Blurred Lines Robin Thicke
Happy Pharrell Williams
Starships Nicki Minaj
Party Rock LMFAO
I've Got A Feeling Black Eyes Peas
Forget You Cee Lo Green
Soul Sister Train
Think Aretha Franklin
Footloose Kenny Loggins
Want You Back Michael Jackson
Funky Music Wild Cherry
Kiss Prince
Long Way To The Top AC/DC
Good Times Barnsey/INXS
What's Goin' On 4 Non-Blondes
Superstition Stevie Wonder
Raise Your Glass Pink
Underneath Radar Underworld
Funky Music Wild Cherry
Sex On Fire Kings Of Leon
Your The Voice John Farnham
Shackles Mary Mary
Sweet Child O' Mine Guns N' Roses
Yeah 3X Chris Brown
Run To Paradise Choir Boys
Sweet Home Alabama Lynard Skynard
Don't Feel Like Dancin' The Scissor Sisters
Living On A Prayer Bon Jovi
You're Unbelievable EMF
Billy Jean Michael Jackson
Pump It Black Eyed Peas
Hello Hello Cat Empire
Stuck In The Middle Stealers Wheel
Ever Gonna See Ur Face Angels
Rockin' Robin Michael Jackson
Eagle Rock Daddy Cool
Long Train Running Doobie Bros.
Dont Stop The Music Rihanna