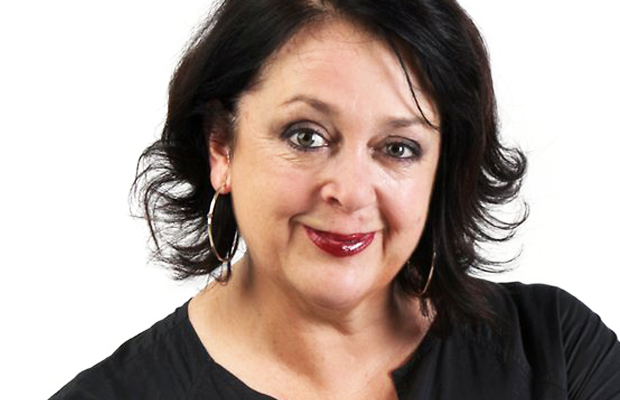 WENDY HARMER
COMEDIAN, ACTOR, RADIO & TV PERSONALITY 
Wendy Harmer grew up in small country towns in Victoria, includingBendigo, Selby, and Geelong, where she studied journalism at the Gordon Institute of TAFE and became a reporter at the Geelong Advertiser. Her journalistic career took her to Melbourne, where she worked for The Sun newspaper and was introduced to a comedy group performing at the Flying Trapeze comedy venue. This group included Ian McFadyen, Mary-Anne Fahey, Peter Moon, and Jane Turner, who asked Harmer to join the group after performing some of the scripts Wendy Harmer had written for them.
Not long afterwards, Wendy Harmer was headlining her own shows at the Last Laugh theatre restaurant, owned by entrepreneur John Pinder and later by Rick McKenna. The shows included masterpieces of Australian comedy, including Faking It, Sunburn Bloody Sunburn, and Sunburn the Day After, which included the group from the Flying Trapeze and, amongst others, Mark Neale, Richard Stubbs, and Steve Vizard.
Wendy Harmer first appeared on television in The Gillies Report, along with John Clarke, Phillip Scott, Tracy Harvey, Geoff Kelso, Peter Moon, and Marcus Eye. Harmer went on to host her own show on ABC TV, The Big Gig, including, amongst others, performers Glynn Nicholas, Rod Quantock, Greg Fleet, Jean Kittson and the Doug Anthony All Stars.
Wendy Harmer is currently Editor in Chief of TheHoopla.com.au, a news and opinion site for Australian women.
Radio career
In 1993, Wendy Harmer joined 2Day FM, co-hosting the highly rated breakfast radio show The Morning Crew for 11 years. In September 2005, Harmer started as a co-host of the new Sydney and Melbourne radio station Vega FM, but by March 2006, she had quit her morning show after creative differences with management.
Wendy Harmer will return to radio in 2016, presenting the morning program on 702 ABC Sydney.
Television credits
Wendy Harmer was the host of the TV series The Big Gig, had her own TV chat show in 1990, In Harmer's Way, and co-starred in the World Series Debatewith Andrew Denton from 1993 to 1994. Wendy Harmer hosted the Logie Awards of 2002, and was caught up in widespread media criticism of the event, with some focusing on her personal performance. In 2005, Harmer was the subject of an ABC Australian Story episode. Stuff, a four-part television documentary series which Harmer produced, wrote, and presented, premiered on ABC TV in 2008. The same year, Harmer commenced writing for the animated series Pearlie, based on her series of books. Harmer wrote many of the episodes, acted as a creative producer on the series, and even made a cameo appearance as Astrid the Dream Fairy.