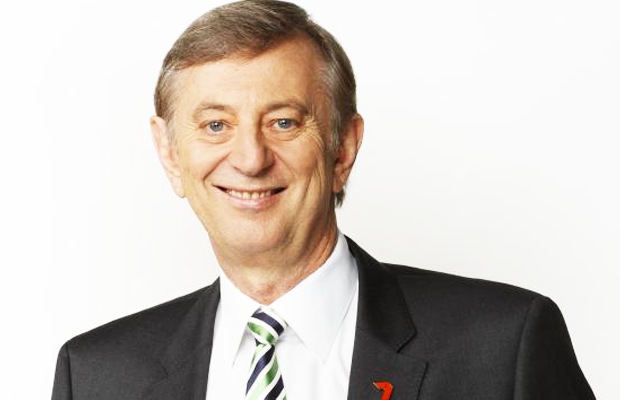 DENNIS COMETTI
SPORTS COMMENTATOR & TV PERSONALITY
Dennis Cometti played 40 matches for West Perth. His best year in the WAFL was 1968 when he kicked over 60 goals playing for West Perth under Graham Farmer. In 1971 Dennis Cometti made the senior list at Footscray but due to injuries and media commitments was unable to make a mark and did not play aVFL senior match.
On his return to Perth he played with some success in the Sunday Football League. Dennis Cometti initially played for Wanneroo before moving to Maddington as captain-coach leading the club to four successive grand finals, winning premierships in 1974, 1975 and 1976. After hanging up his boots he later coached Osborne Park and Kelmscott, winning a premiership in 1979.
In 1982 Cometti was appointed coach of West Perth. After finishing third in his first year, his tenure at West Perth was otherwise uneventful, finishing sixth in both 1983 and 1984. Other than a brief period as Chairman of Selectors for the [WA state-of-origin side], this was Cometti's last active involvement in club football.
He commenced his media career as radio announcer in Perth, Western Australia, in 1968 as a Top 40 disc jockey at radio station 6KY. Over the following five years he worked as an announcer on 6PM, 3DB in Melbourne and 6PR. He broadcast his first football match – a state game between WA and Victoria at Subiaco Oval in 1971. Melbourne station 3KZ needed a caller and Cometti volunteered. He joined the ABC in 1972 where he concentrated exclusively on sport. He broadcast his first Test match in 1973 (at 23 the youngest in ABC history) and for the next 13 years broadcast Test Cricket alongside Alan McGilvray.
Commentary career
Seven Network
In 1986 his surprise move to the Seven Network coincided with the formation of the West Coast Eagles in the VFL but because of a bitter battle over television broadcast rights (that excluded the 7 Network) Dennis Cometti broadcast the first season of the expanded VFL competition on independent broadcaster Broadcom (all states apart from Victoria). In 1988 when the 7 Network regained the VFL television rights Cometti immediately became the highest profile commentator of VFL/AFL matches (based in Western Australia where he presented the evening news sports segment). He stayed with Seven until 2001, as main sports anchor for Seven News in Perth, when they lost the rights to broadcast AFL matches. He has since been succeeded by Basil Zempilas, who still reads the sport news on Seven News to this day.
In the late 1990s, he was among those to have been sent up by impersonator Andrew Startin on Live And Kicking. Actor Eric Bana was another to 'do' Cometti.
During his initial time with the station, he called eight AFL Grand Finals. That number has since risen to 16 (Channel 7 alternated Grand Finals with Channel 10 through two rights agreements while Channel 9 broadcast no Grand Finals, choosing to concentrate on Friday Night Football in its five-year agreement with Channel 10). He also commentated at the Summer Olympics swimming competitions in Barcelona 1992, Atlanta 1996 andSydney 2000. Dennis Cometti has broadcast more Australian Olympic Gold Medals than any other commentator of the television era.
With Seven regaining the rights to broadcast AFL games starting from 2007, on 8 December 2006 it was announced that Dennis Cometti re-signed with the Seven Network to "call" games alongside Bruce McAvaney.
To season's end (2014) he had been voted Television Caller of the Year by the Australian Football Media Association for an unprecedented ten times. In 2006 he was also named winner of the Alf Potter Award for that seasons Most Outstanding Media Personality. Cometti is a member of both the MCG and AFMA Halls of Fame.
In 2009, he re-joined The West Australian newspaper to write a fortnightly column and weekly blogs. Cometti has a weekly segment on 7 Perth News during the AFL season.
Cometti is contracted to call games for Channel 7 and Triple M during the 2015 and 2016 AFL seasons. In August 2014, Dennis Cometti announced his intention to retire at the end of the 2016 season.
Nine Network
Dennis Cometti switched to the Nine Network in 2002 and alongside Eddie McGuire, Dermott Brereton and Garry Lyon became the channel's leadingAustralian rules football caller. During those 5 years he was voted AFMA (Australian Football Media Association) television broadcaster of the year 5 times. In 2006 he was awarded the Alf Brown Award as the games foremost media personality. Over the past decade, and starting at Channel 9, Cometti has dominated Australia-wide newspaper polls (now very much part of the football landscape) for fan popularity. Occasionally while at Nine, he returned to cricket commentary and in 2003/04 called an Australia A game. As at Seven, he read the sports report on the weeknight National Nine News in Perth.
Radio
Between 2008 and 2011 Dennis Cometti was the lead AFL caller on Saturday afternoons for 3AW initially alongside Rex Hunt and later Brian Taylor, until he revealed he would be joining Triple M in 2012 to replace Rex Hunt on a Saturday afternoon. He was immediately removed from 3AW's lineup to call the 2011 AFL finals series and was replaced by Dwayne Russell (Host of 3AW's Sports Today program and Fox Sports commentator).[11] 2012 started with 3MMM dominating the Melbourne radio market and Cometti voted the nations top AFL radio caller in a national News Ltd newspaper poll. Cometti does not participate in Triple M's AFL preview program The Saturday Rub joining commentators James Brayshaw, Danny Frawley and Garry Lyon for the call of the match of the day.
Other work
Dennis Cometti was featured on SBS in an episode in the first Australian series of Who Do You Think You Are?, where he traced his father's Italian heritage back to Italy and his mother's English heritage back to three convicts and a freeman. The show also revealed his great-great-grandmother (although never charged) may have been involved in the deaths of two of her husbands.
In 2012, he appeared in an iconic television commercial series for Carlton Draught's Draught Pick iPhone app.
Video games
Dennis Cometti has been the voice-over commentator for the AFL video game series since 2004.