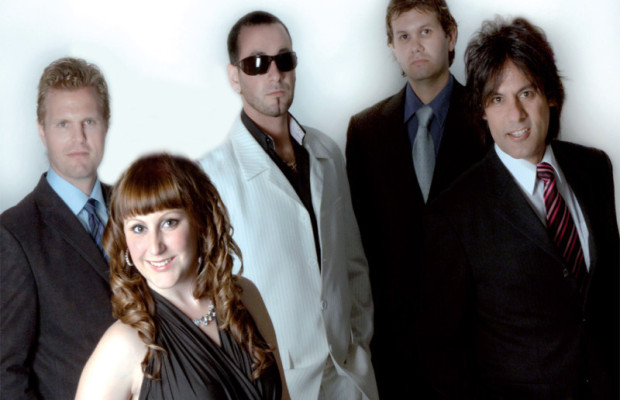 GROOVE JETS is the perfect choice for your next Corporate Function, Major Event, Conference, Wedding, Birthday Party or Private Function.
We believe your function is all about you and we are dedicated to providing quality entertainment tailor made and personalized to suit your special occasion.
The bands extensive repertoire, experience and amazing versatility allow them to perform anything from layback/groove/soul (think Barry White, Stevie Wonder & Aretha Franklin), to your favourite Rock/Pop/Dance/Party Hits (Robbie Williams, KISS, Jacksons, BG's etc).
Their dynamic and energetic male and female vocalists have a strong focus on entertaining an audience and encouraging crowd participation to give you a night you will remember for a very long time.
Their members combine many years of experience in many styles and genres (Classical – PHD, Jazz, Rock/Pop, Acting on stage and television) and this experience has taken us on many musical journeys touring Australia, Asia, America and Europe with many international acts such as Rod Stewart, John Farnham, Michael Crawford, Roxette, Bjorn Again, Elvis to the Max etc.
They  have performed at most of the Major Corporate venues in South Australia such as the Adelaide Convention Centre, Festival Theatre, Entertainment Centre, Sebel Playford, Stamford Grand, AAMI Stadium etc and our outstanding service to our many clients has resulted in many repeat bookings and continuous, on-going business relationships which we are committed on continuing to provide quality entertainment for many more years to come.
Your job will be made a whole lot easier knowing you are dealing with a band who will give you the utmost respect and professionalism from the time of your first enquiry, leading up to the function and on the night of the performance.
They are dedicated to customer service and this is why we are one of the most successful and in demand Corporate Acts in the entertainment Industry.
Look no further, the choice is easy… GROOVE JETS (Quality Entertainment at its best).
GROOVE JETS have performed to hundreds of satisfied clients including:-
Adelaide Crows, Barossa under the Stars, Bianco, Cadbury Schweppes, Chemplus, Clipsal, Ford Motor Company, Gerard Corporation, Mayne Pharmaceuticals, Messenger Press Small Business Awards, National Australia Bank, Port Power, RM Williams, Royal Society for the Blind, Ronald McDonald House, Toyota Motor Corporation, Weddings & Birthday parties plus many more.
CLIENT FEEDBACK
"GROOVE JETS were absolutely fantastic. Thank you for a fantastic night. I have had lots of emails from staff, managers and guests thanking us for a great night and wanting GJ to perform again for our midyear and Xmas show" (Star Pharmacy Group)
"Our choice of band was a super important part of our corporate function and GJ were a godsend to someone like me ensuring that our 300 guests had a good time.
The band were not only slick with their performance but they also availed themselves to special requests throughout the night. Our guests all had a fabulous night and loved the band. Thanks for making it a fun, entertaining and memorable night" (Finsbury Printing)
"As always a big thank you again for another exceptional performance. Your energy, enthusiasm and fun is infectious and your variety of music was perfect for entertaining our wide age group of 18 to 70 year olds" (Altana Pharma)
"Thank you, thank you, thank you for a fantastic and professional performance. A big thank you for coming to Coober Pedy again and we would like you to pencil in next year again at Easter time. Thank you also for being a pleasure to work with"
(Coober Pedy Opal Festival)
"Wow, what a great band. My husband thought you were miming to the Bee Gees and Neil Diamond, seriously it was fantastic" (Apex Club).
Sample Songlist
Can't get enough of your love
Can't take my eyes off of you
It's not unusual
Crunchy Granola/Cherry Cherry
Sway
Dancing in the street
Shake your tailfeather
River deep mountain high
Heatwave
Respect
Staying Alive
Blame it on the boogie
Play that funky Music
We are family
YMCA
Let me entertain you
I was made for loving you
Crocodile rock/Saturday night
Rock and roll all night
Time Warp