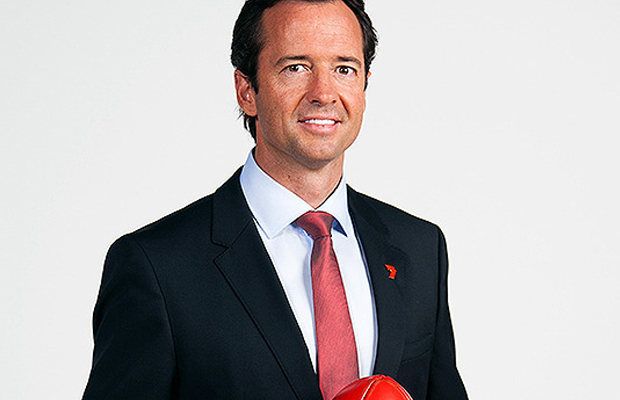 HAMISH McLACHLAN
SPORTS BROADCASTER
Hamish McLachlan (born 28 August 1975) is an Australian sports broadcaster currently employed with the Seven Network and Austereo. McLachlan co-hosts AFL Game Day on Sunday mornings, and callsAustralian Football League (AFL) matches for the Seven Network on Saturdays and Sundays. McLachlan is also a host and commentator of the Australian Open tennis tournament for the Seven Network.
Hamish McLachlan, originally from Adelaide, South Australia, attended St Peter's College and the University of Adelaide, graduating with a degree in commerce. He began work with Elite Sports Properties (ESP) in 1998, working in sports management. As general manager of the Events and Entertainment Division, he was involved in a number of different sporting events, including the 2000 Summer Olympics, the 2002 Winter Olympics, the 2002 FIFA World Cup, and the 2002 Commonwealth Games. In 2004, McLachlan became a director of the AFL Hall of Fame and Sensation exhibition in Melbourne, which was placed into administration two months after opening due to severe debt. He had previously co-founded Spyglass Management, which was awarded the licence to operate the Hall of Fame. In November 2004, the Federal Court of Australia described Spyglass Management as "hopelessly insolvent", with "many creditors, whose debts in aggregate exceed $26 million".
In 2008, Hamish McLachlan became co-host of AFL Game Day, a television show on the Seven Network. He also took up a role as a match-day commentator, calling Saturday-night and Sunday-afternoon matches for Melbourne-based radio station Triple M. The same year, he called the Spring Racing Carnivalfor Triple M. Outside of Australian rules football and horse racing, McLachlan is involved in calling polo matches. He also owns Ten Goals, a small media and production described as specialising in "sports broadcasting, commentary, hosting and multimedia presentations".
In 2016, Hamish McLachlan created controversy and received criticism following an on-air incident when he was pushed away by weather presenter and Miss Universe Australia, Monika Radulovic, as a result of him flirting and embracing with her during a live cross to the Magic Millions horse racing event. He later apologised to Radulovic and viewers on air.
His older brother Gillon McLachlan is Chief Executive Officer of the AFL.