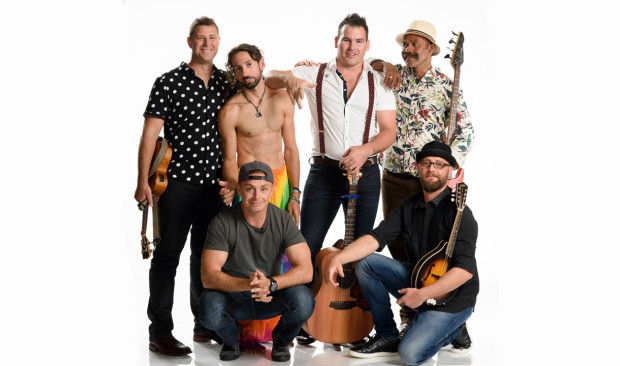 KING SOCIAL

BOOK AUSTRALIA'S GOT TALENT GRAND FINALISTS
Based in Townsville, QLD
King Social are a Townsville based original band that blend Country and rap. As seen on channel nine's Australia's Got Talent – Link
After auditioning on the reality show, the band was picked to go through to the semi-final after judges praised their performance.
Like a Piña Colada served in a flatbrim with a side of steak and chips, King Social is at once refreshing and satiating. An eclectic Aussie fivepiece, the group fuses rock, hip-hop, reggae, pop, indie and tight jeans to defy musical convention and transcend the bounds of any singular genre.
Formed in 2013, the unlikely mates at the heart of King Social look like the stragglers at the shittiest ever UN Convention – there's an ocker cowboy, a Greek hippy, a rapping Scottish/Aboriginal, a Fijian with an infectious smile, and – when his beard is in full-force – a lead guitarist who could easily be mistaken for Ned Kelly.
Together they create a sound best described as "city meets country" – an edgy and endearing blend of old and new (like seeing your Grandma in jeggings, only not disgusting).
Performing with gusto and passion, King Social has amassed a cult following in its home stomping ground of North Queensland that is quickly catching across Australia and beyond.
Their live shows have been described as "electrifying" and "completely addictive"; and, like a siren's song, frequently draw crowds in the thousands to be swept up in the good-time vibes that seep from King Social. From the first song they'll win you over with a masterful mix of urban rock and hip hop, while still paying homage to their country roots. The lads effortlessly weave the crowd into the show and even in front of more than 2,000 fans, there's something intimate about the seamless transition from Angus' honest, slightly rough-round-the edges vocals to Stevie's explosive and perfectly-crafted raps. King Social's almost contradictory blend of sounds will find you dancing like a maniac while mixing sweat with rockers, ravers, hippies, hipsters, hot mums, bogans, beauties, crossdressers and drunks.
King Social's first EP and music video It Goes Around was released in 2013; with the title track and Whiskey and my Gun both topping the Triple J Unearthed charts. Since then the band has continued to build on its incredible momentum, working hard to grow its fan base with live shows across Australia.
Their follow-up EP, Big Man, was released in December 2014 and scored them their third #1 on Triple J's Unearthed Charts with The Dancer.
This early success was compounded in 2015 when King Social were named finalists for four Queensland Music Awards.
This year alone, the King Social lads have made a bunch of new mates including Sticky Fingers, 360, The Rubens and Dan Sultan, while helping them pack out venues. Their Big Man Tour has netted them legions of new fans along Australia's Eastern Coast and throughout Queensland.
King Social has a show that is not to be missed; there's no doubt, that just like the UN, they will change the world.
Book or contact King Social for your next corporate event at the Entertainment Bureau.
Tags : Book King Social, How to Book King Social,  Book Australia's Got Talent contestants, Book Australia's Got Talent top 12, Book Australia's Got Talent finalists, How to book Australia's Got Talent finalists, How to book Australia's Got Talent contestants, Booking agents for Australia's Got Talent contestants.