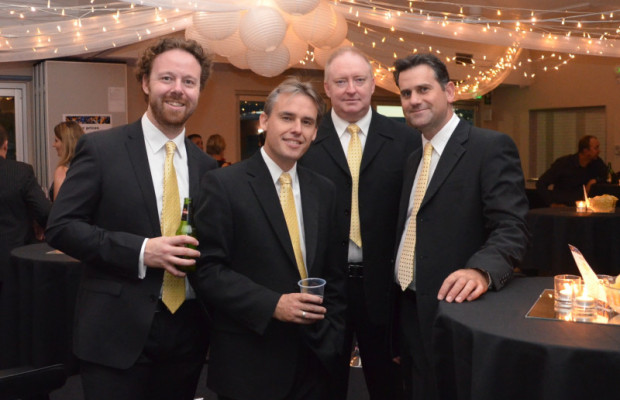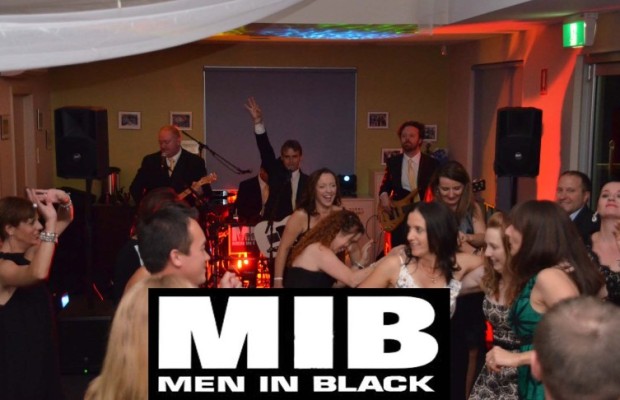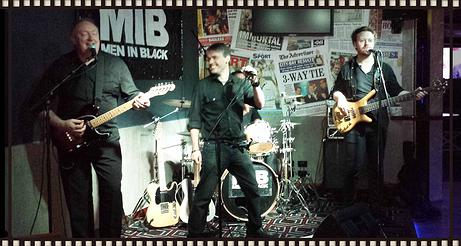 MEN IN BLACK –
Adelaide Wedding & Corporate Cover Band
Men In Black are Adelaide's most experienced, exciting and respected corporate / party band, playing the latest pop and rock hits and a great mix of everybody's dance party favourites.
Men In Black are a team of professional music educators who are musicians a cut above the rest. Great vocals, harmonies and multi instrumentalists who take live music to another level with an entertaining and engaging show suited to all mixed age audiences. Trent Wickers – lead vocals, guitar, bass and sequencing, Rob Elliott – lead vocals and guitars, Scott Illingworth – vocals, bass and tenor saxophone, Mike Ellul – vocals and drums. Men In Black play a wide variety of songs from the latest popular dance hits to timeless party favourites from the 60s to the 90s. We tailor every show to suit your specific needs or theme. We use outstanding quality PA and lighting equipment at every event and we play our music at the appropriate volume level – yours!
Men in Black have entertained audiences for over ten years and have performed at corporate venues including Skycity Casino's Marble Hall Millennium Ball and Balcony Bar, Hyatt and Hilton International Ballrooms, Stamford Plaza and Stamford Grand, Novotel Adelaide and Barossa, National Wine Centre, Adelaide Convention Centre, Adelaide Oval, Entertainment Centre, Darwin Casino, hotels, venues, wineries and club rooms.
Clients have included the Messenger Press Awards, RAAF, Adelaide Airport staff xmas, Casino staff shows, Hyatt and Grand New Years Eves, Singapore Airlines, Schutzenfest, Summers at the Bay, Adelaide United, AAMI Stadium functions, State Opera, Master Builders Association Excellence Awards, K.I. Cup, Adelaide Bank and many, many more.
Men In Black have performed with Denise Drysdale, Jane Reilly, John Blackman, Ernie Dingo, Dean Hutton, Russell Gilbert, Academy Award Winner Adam Elliot and even Plucka Duck to name a few celebrities!
Men In Black Promo:
Men In Black have been entertaining in Adelaide and around Australia for over fifteen exciting and successful years. Men In Black always provide quality entertainment in corporate and public venues to very satisfied clients. We are available for weddings, corporate awards events, sporting and social clubs, Christmas events, parties and hotels. Men In Black plays the best party songs and a great range of the latest chart hits to keep audiences involved and dancing all night. Exceptionally tight live vocals, rich four part harmonies, energetic stage presence, and versatile musicianship best describes Men In Black's impeccable sound and trademark show. Most importantly, we genuinely love performing for you!
Band members are professional music teachers and experts in their fields of audio recording so we know all about getting the perfect sound and appropriate volume for your special event with exceptional band equipment, break music, and quality dance lighting to help set the mood.
Choose 'Men In Black' as the band for your next exciting event.
Men In Black Song Repertoire: Are You Gonna Be My Girl, I Don't Feel Like Dancing, Tainted Love, No Such Thing, Somebody Told Me, Stand By Me, With Or Without You, Video Killed The Radio Star, Living On A Prayer, Shimmer, Blame It On The Boogie, Superstition, Something So Strong, Mamma Mia, I Believe In A Thing Called Love, April Sun In Cuba, Hurt So Good, The Joker, Little Sister Blister In The Sun, Summer Of 69, Ticket To Ride, Place Your Hands, Hippy Hippy Shake, Steal My Kisses, Mustang Sally, Keep Your Hands To Yourself, Let's Stick Together, Love Shack, Smooth, Brown Eyed Girl, Hey Jealousy, Don't Change, Lost And Running, Come On Eileen, Walk This Way, Don't You Want Me Baby, I'm Your Man, Hard To Handle, I Just Can't Get Enough, What I Like About You, Semicharmed Life, Kiss, All The Small Things, Turning Japanese, Play That Funky Music, Holy Grail, Amazing, This Love, Saw Her Standing There, Shake Your Body Down To The Ground, Class A, Jessie's Girl, Crazy Little Thing Called Love, My Sharona, Let Her Cry, Funky Town, Khe Sahn, Shake Your Tail Feather, Johnnie B. Goode, She's So High, Sex On Fire, Lucille, Land Down Under, On My Mind, Pretty Vegas, Twenty Good Reasons, Centrefold, I'm A Believer, Better Man, Don't Dream It's Over, Roll Over DJ, Treat Her Right, Take Me Back, Love My Way, DJs Got Us Falling In Love, All In, Throw Your Arms Around Me, Halfway Gone, Missing You, Dream Catch Me, Flame Trees, Darling It Hurts, Mean To Me, You Are All That I Have, In My Head, It's A Lonely Ol' Night, That's What Makes You Beautiful, Forget You, Just The Way You Are, Here And Now, Slide, Beauty And The Beat, Locked Out Of Heaven, Everybody Talks, I'm Yours, Lonely Boy, Jackie Wilson Said, and  even more…