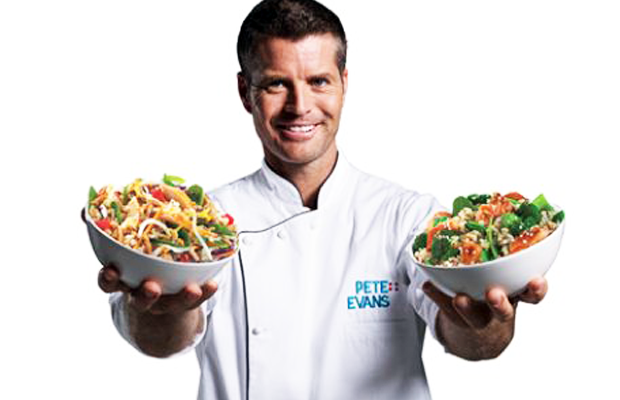 PETE EVANS
TV CHEF, AUTHOR & MEDIA PERSONALITY
In 1996, the group expanded to Sydney to launch the Hugos Restaurant Group. Pete Evans moved to Sydney with his brother and David Corsi and they opened Hugos Bondi in 1996, followed by Hugos Lounge in 2000 and Hugos Bar Pizza in 2004 (both in Sydney's Kings Cross) and Hugos Manly in 2008. As the group's executive chef, Evans worked across all of the restaurants, and the catering business.
The group closed Hugos Bondi in 2006 to pursue the pizza bar, rather than casual fine dining format for which Hugos Bondi was known.
Over 1998–2011, the restaurants in the Hugos Group were awarded eight Sydney Morning Herald 'Chef's Hats', 21 'Best in Australia' awards, and three 'Best pizza in Australia' awards at the Australian Fine Food Show. In 2005, Hugos won 'Best pizza in the world' at the American Pizza Challenge in New York City.
While visiting Australia for her Oprah's Ultimate Australian Adventure (2011), Oprah Winfrey sent 60 of her 'ultimate viewers' for a pizza-making and cocktail class with Pete Evans at Hugos Bar Pizza.
Pete Evans has cooked at several events in the US as part of the annual G'Day USA: Australia Week promotion. In January 2010, he cooked with Australian chef Curtis Stone and American chef Wolfgang Puck for 850 guests at the G'Day USA black tie gala in Los Angeles. In January 2012, Evans cooked for the G'Day USA black tie gala dinner in New York City. The event catered to over 650 guests.
Pete Evans has appeared in, and hosted, a range of television cooking programs. His first television job was for the LifeStyle Channel's Home series (2001–2005) which he co-presented with Brendan Moar and Shannon Fricke. Evans filmed over 60 episodes of the show, which focused on styling, home, gardens, cooking and casual entertaining. In 2006 Evans, Moar and Fricke appeared in a travel-based spin-off series "Postcards from Home" (2006), which saw the trio travelling to countries outside Australia. For this series, Evans interviewed chefs including Ferran Adrià of Spain's El Bullirestaurant.
The LifeStyle Channel also produced the six-part travel and cooking TV series Fish (2006) with Pete Evans and close friend Udo Edlinger, as well as a one-hour documentary Cooking for Our Princess Mary (2006) which followed Evans in the kitchen as he prepared a four-course banquet for Crown Prince Frederik and Crown Princess Mary of Denmark.
From 2007–2009, Pete Evans joined long-running television series Fresh with the Australian Women's Weekly with fellow presenter Lyndey Milan. The series was cancelled in 2009.
Since 2010, Pete Evans has been a judge on My Kitchen Rules (MKR). with his friend and co-host Manu Feildel. The fourth series of MKR was shown in 2013.